Welcome to Forst Eye Clinic, the Best Eye Hospital in Nigeria.
Best Eye Hospital in Nigeria
Call or Whatsapp us at 0818 699 2818 today.
At Forst Eye Clinic, we are dedicated to providing the best optometry eye care services in a comfortable environment.
We are NHIS Govt. Approved and provide secondary health care in Nigeria to reputable Health Maintenance organizations – HMO in Nigeria, partnering with them to deliver professional eye care services to both individuals and corporate organizations.
Medical Director – Dr. Akuete Veronica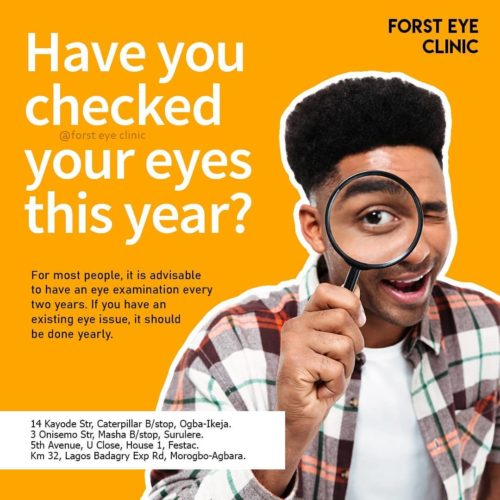 Forst Eye Clinic is one the oldest continuous optometrist practice in Lagos, Nigeria. Since we started in 1992, Dr. Akuete Veronica, our Eye Doctors and the Forst Eye Clinic team strive to provide the finest in eye care services.
Our practice has served the people of the Lagos metropolis with the mission of compassionate, ethical eye care and we have offered the highest standards of quality and individualized attention in a relaxed, professional atmosphere.
We can proudly say we are the best eye hospital in Nigeria and the vision care providers of choice in Lagos, Nigeria.
Your vision and overall eye health are our primary concern. we look forward to the opportunity to serve you and your family's eye care needs.
We invite you to browse our website to learn more about our optometry services, and invite you to join our patient family by scheduling an eye exam appointment at our clinic.
Forst Eye Clinic is a full service eye and vision care provider and will take both eye emergencies as well as scheduled appointments.
Patients throughout the Lagos metropolis come to Forst Eye Clinic because they know they will receive the personal attention and professional care that is our foundation.
We believe in total eye care, and for your convenience we are staffed with best optometrist and an optical boutique with the latest in fashion eyewear and contact lenses.
We have the latest, state-of-the-art ophthalmic equipment, including automatic refractors, which assist in the prescribing of glasses, Humphrey Visual Field analyzers and the latest Zeiss Cirrhus OCT machine, which helps evaluate and monitor age-related macular degeneration and diabetic macular edema.
This machine offers precise detection of early glaucoma. Topcon digital photographs of the back of the eye can be shown and visualized by the patient in the office, when necessary, at the time of visit.
Our eye doctors and our team are dedicated to keeping our patients comfortable and well-informed at all times.
At Forst Eye Clinic, we will explain every exam and procedure and answer all of our patient's questions.
Additionally, at Forst Eye Clinic, we work with insurance providers (HMOs) to ensure good eye health and vision care for all of our patients.
Our Approach to Optometry
Our one-on-one approach to optometry makes Dr. Akuete, our eye doctors and the Forst Eye Clinic staff the eye and vision care providers of choice in Nigeria and the best eye hospital in Nigeria,
Our optometrist offers a full range of options to meet your eye care needs. From complete eye exams, contact lenses, glasses and glaucoma testing to pre- and post-operative care.
We can provide the treatment that is right for you. For a complete list of services, visit our services page. You can call or whatsapp us at 0818-699-2818
We also stock a large selection of contact lenses as well as fashionable frames – including Silhouette, Columbia, Nike, Flexon, Fossil, Bongo, Nautica, Banana Republic, Candies and our newest line Ray Ban opthalmics – that are sure to suit your eye wear needs.
Dr. Akuete Veronica