Welcome to Forst Eye Clinic Lagos
Your optometrist and eye clinic in Lagos – Nigeria, providing quality eye health care in Nigeria. Call 08033435554 for an eye test today.
We are NHIS Govt. Approved and provide secondary health care in Nigeria to reputable Health Maintenance organizations – HMO in Nigeria, partnering with them to deliver professional eye care services to both individuals and corporate organizations.
At Forst Eye Clinic, we are dedicated to providing the best optometry eye care services in a comfortable environment.
Schedule an eye test today online or call us on 08033435554
Dr. Akuete Veronica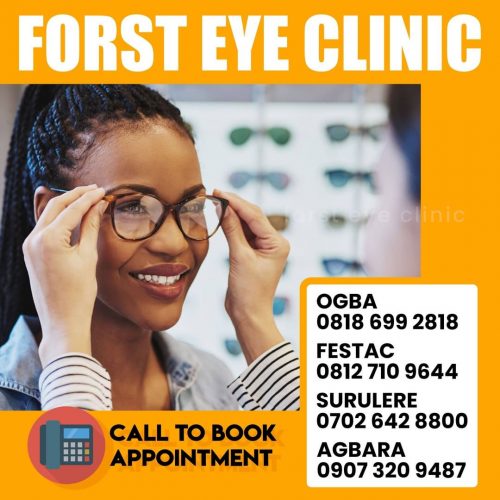 Ogba Clinic (Head Clinic)
No. 14 Kayode Street, Off Ijaiye Road, between Tastee Fried Chicken and Normal Children School, By Caterpillar Bus-stop, Ogba-Ikeja, Lagos. Nigeria.
0803 343 5554
0818 699 2818
info@forsteyeclinic.com
3, Onisemo street, by Adegoke gate, near Masha bus/stop, opposite X-Serve Children's Hospital, Surulere, Lagos. Nigeria.
0803 343 5554
0702 642 8800
info@forsteyeclinic.com
5th Avenue, U Close, House 1, Festac Town, Lagos. Nigeria.
0803 343 5554
0812 710 9644
info@forsteyeclinic.com
Km 32, Lagos Badagry Express Road, Mobil Filling Station, Morogbo. Agbara B/Stop, Lagos, Nigeria.
0803 343 5554
0907 320 9487
info@forsteyeclinic.com