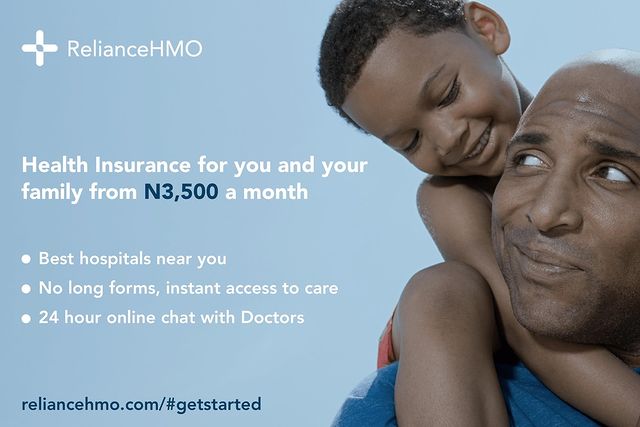 Reliance HMO
Reliance is a top HMO in Nigeria that uses software, data science, and telemedicine to make health insurance affordable and comfortable to access.
HMO is an acronym for 'Health Maintenance Organization', and they cover healthcare insurance for individuals and organisations.
To register for Reliance HMO, you have to visit their website. Select the type of insurance you want, pay with your ATM card, and fill out a short form which grants you access to hospitals immediately.
To add other people to your insurance plan, log in to your account and click the "add enrollee" tab at the top of the page. Fill in the required information for each person and submit.
The Reliance HMO plan is available on Google Playstore and to access, download and register your account.
Reliance HMO Health Plans
Reliance HMO has three main health plans available for individuals, family and businesses.
1. Individual Plan
This health insurance policy is an agreed contract that covers an individual's/family's healthcare. How it works is that the more loyal you are to Reliance HMO, the more benefits you get. Also, you get paid 20% of what you've previously paid if you stay healthy.
2. Family Plan
This health insurance policy is for your children and loved ones. Your children get access to the best hospitals near your home and their school, in case of an emergency.
3. Business Plan
This health insurance policy covers your staff. It is cost-effective and provides maximum benefits to your employees.
Reliance HMO Individual Plans
Reliance HMO offers two insurance plans which you can choose based on your financial capacity.
1 Red Beryl Individual Plan
This plan has a medical cover of N1.2 million in a year. It grants you access to free wellness and health checks at selected Reliance HMO hospitals. You also get access to gym, eye and dental care.
Also, a total sum of N150,000 to cover nine different surgeries, and you have access to 614 hospitals across Nigeria. The lowest amount to subscribe to this plan is N3,500, which you can pay monthly.
2. Alexandrite Individual Plan
This plan has a combined medical cover of N1.8 million a year. It grants you access to gym, spa, eye and dental care with free wellness and health checkups. The checkups will be at Reliance centres in your location.
A total sum of N300,000 is available to cover fourteen different surgeries. You also have access to 771 hospitals all over Nigeria. The lowest amount needed to subscribe to this plan is N6,000, which you can also pay monthly.
Reliance HMO Customer Care
If you have any issues or need clarification on your insurance plan, you can reach out to the Reliance customer support through the official email on their website or through;
Facebook Messenger: @reliancehmo
Phone number: 070073542623
Whatsapp: 017001580
Reliance HMO Eye Clinic
Use your Reliance HMO at Forst Eye Clinic. To book an appointment, Call 08033435554
At Forst Eye Clinic, we are dedicated to providing high-quality optometry eye care services in a comfortable environment. You can do your eye test and get your eye glasses in the same day.
We are NHIS Govt. Approved and provide secondary health care in Nigeria to reputable Health Maintenance organizations – HMO in Nigeria, partnering with them to deliver professional eye care services to both individuals and corporate organizations.
Ogba Eye Clinic
No. 14 Kayode Street, Off Ijaiye Road, between Tastee Fried Chicken and Normal Children School, By Caterpillar Bus-stop, Ogba-Ikeja. Lagos, Nigeria.
Surulere Eye Clinic
3, Onisemo street, by Adegoke gate, near Masha bus/stop, opposite X-Serve Children's Hospital, Surulere. Lagos. Nigeria.
Festac Eye Clinic
5th Avenue, U Close, House 1, Festac Town, Lagos, Nigeria.
Agbara Eye Clinic
Km 32, Lagos Badagry Express Road, Mobil Filling Station, Morogbo. Agbara B/Stop. Lagos, Nigeria.
To book an appointment, Call 08033435554
Fill Our
Appointment Form
Fill the appointment form to book a schedule with us.