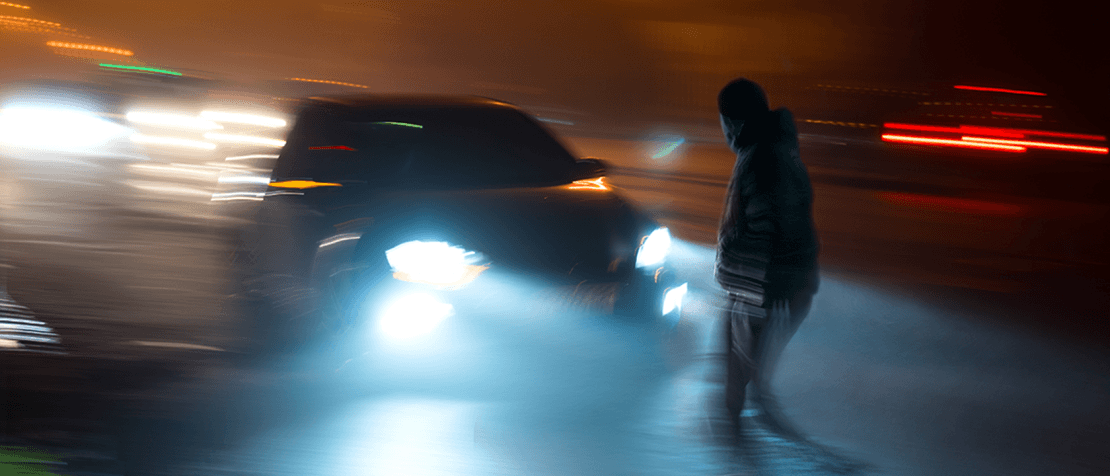 If you have more difficulty seeing when you drive at night than in the day, you're hardly alone. You will likely be needing a night driving glasses. Seeing at night can often be challenging, due to decreased visual distance and sensitivity to contrasts in brightness. About 70 percent of accidents involving cars striking pedestrians occur at night.
Older people, even if their daylight vision is okay, are more susceptible to night vision problems. This is because of changes that occur in aging eyes, including a gradual reduction in the size of the pupil (so less light hits the retina) and a decrease in the number of rods in the retina (the cells that are important for twilight and night vision).
There is also a loss in contrast sensitivity (the ability to distinguish an object from its background), which makes it harder to see pedestrians, animals, and obstacles on the road. Plus, the retinas ability to quickly adjust between bright light (as with oncoming headlights) and low-light conditions decreases with age.
On top of these changes, older people are more likely to have other eye conditions that affect the ability to see in low light, including cataracts, macular degeneration, and glaucoma
Here are some ways to improve your eyesight when driving in the dark at night:
1. Don't Stare At Oncoming Lights While Driving.
Looking directly at light sources is a common concern while driving at night.
It will cause your pupils to contract, making it more difficult to see in the dark.
This is known as bleaching of the retina, temporarily decreasing your sensitivity to light.
Shift your gaze down and to the right to avoid being blinded by approaching headlights.
Closing one eye will mean you'll have the benefit of unimpaired vision once the bright light has passed.
Another trick while driving at night is to take your eyes off the oncoming high beams and look at the white line on your side of the road to maintain a safe course.
Dirty mirrors reflect the lights from cars behind you in a wider, diffused shape that can produce glare in your eyes, so clean them up.
Also, aim the exterior mirrors so that you can move your head out of the path of lights reflected in them.
2. Use Antireflective (AR) Coating On Eyeglasses.
Using AntiReflective coated lenses can reduce the amount of light reaching your eyes by about 8%.
Lenses developed with wavefront diagnostic technology can reduce halos, starbursts, glare and other distracting aberrations.
Keep in mind that AR coated lenses will not improve vision for drivers who don't ordinarily wear corrective lenses.
Ask your eye care professional to prescribe special eyeglasses that may help you see better on the road at night.
Some glasses are sold online but these glasses have been shown to allow more light in.
The smart choice is to use prescription glasses that have an anti-reflective coating, which keeps light from bouncing around inside your lenses. Wearing red-tinted glasses before you go out into low light will help train your eye to focus better.
if you're buying a new car, look for a dashboard with red illuminated buttons, rather than blue, green, or white.
3. Reduce The Light Levels Inside Your Car.
Use light judiciously inside your own car. It's easy to forget to turn off the indoor lights when you're on the move.
However, it's a bad move — higher light levels inside your car can further compromise night vision by making eyes much slower to adapt to low levels of light and increase fatigue.
Also, if you're driving around with the dash light on max, you could be compromising your forward vision.
In fact, endurance racers and rally drivers cover their dashboards to avoid stray reflections.
While you shouldn't do that in a road car, we like to turn down the Instrument Panel and dash brightness quite a bit.
4. Look Around As Much As You Can While Driving.
Looking around in the dark, rather than just the area illuminated by your headlights, can help keep eyes from getting fatigued.
Dance your eyes around, scan the area, and you would be able to see better in dark.
Keep blinking, too, to avoid your rods (cells in your eyes responsible for night vision) from desensitizing.
It's the same basic idea as the 20-20-20 rule for computer eye strain.
5. Adjust Your Car Headlights.
Sometimes, headlights even in brand-new cars are sometimes uneven or pointed lower than necessary.
So it's worth the effort to aim them correctly. Just make sure those newly aimed lights are not blinding oncoming traffic.
Even lights that are aimed correctly can cast a dim glow if something is blocking the light, so be sure to clean the road grime from your headlights often.
If you have an older car with plastic lens covers, those covers might have yellowed or faded over the years.
The best fix is to buy a headlight polish kit to remove the haze so your lights shine through brightly.
Also make sure that they produce the same amount of light as they did when new.
6. Clean Your Windshield With Newspaper.
Windshields that appear clean during the day may reveal streaks that can cause glare at night.
A trick is to polish glass with newspaper to remove residue.
Try not to touch the inside surfaces of your windshield, side windows, or mirrors with your hands, even if it's to wipe off mist.
The oil from your skin will smear, and light will glare when it shines through any place where you touched the glass.
Instead, keep a cotton or microfiber cloth in your door pocket.
7. Wear Sunglasses During The Day.
Since radiation and bright light can reduce our ability to see in the dark, wearing sunglass during the day should make it easier for our eyes to adjust to the dark.
Conversely, too much bright light during the day will temporarily impair night vision.
Look for sunglasses with lenses that transmit 15% of visible light.
Talking to an eye care professional should help determine what kind of sunglasses will best protect your eyes.
8. Let Your Eyes Adjust To The Darkness Naturally.
The best way to see in the dark is to let your eyes slowly adjust to low light.
You can do this by sitting in perfect darkness 20 to 30 minutes before going out into the night.
Or you can wear a sleep mask or just cover your eyes.
The army uses this technique of squeezing their eyes shut tightly for 10 seconds once they are in the dark.
9. Gently Massage Your Eye.
Just close your eyes tightly and apply slight pressure on both your eyes with your palms (use the fleshy part of your palm below your thumb).
After about 5 or 10 seconds, instead of seeing black, your vision will turn white momentarily.
When the white goes away and the black comes back, open your eyes, and your vision will be significantly better in the dark.
A daily routine of eye exercises can dramatically improve both your night and day vision.
A series of few eye exercises can be found online.
10. Supplement Your Diet With Vision-Boosting Nutrients.
One of the primary symptoms of vitamin A deficiency is poor night vision.
Food such as fish, dairy products, liver and fortified cereals are good sources of Vitamin A.
Vitamin A is critical for vision as it is an essential component of rhodopsin, a protein that absorbs light in the retina.
It also supports the normal differentiation and functioning of the conjunctival membranes and cornea.
Fish and shellfish contain retinol, a form of vitamin A, which boosts night vision and other nutrients for vision such as DHA – a fatty acid that makes up as much as 50 percent of the photoreceptors in the retina and omega-3 fatty acids.
Fruits and vegetables contain lutein and zeaxanthin, carotenoids that destroy free radicals and can compromise night vision.
If you don't like eating vegetables, make smoothies and drink in all those nutrients.
11. Go For Regular Eye Examinations.
Make sure you visit an eye care professional at least once every two years, or even more frequently if you have a significant eye condition or visual complaint.
Tell your eye doctor about any problems you experience on the road at night so that you can undergo specialized testing, such as evaluation of your visual field or contrast sensitivity.
Seek immediate care when you detect symptoms of sight-threatening eye diseases.
Remember that many symptoms of eye problems appear late in the disease process, so your urgent response is extremely important.
If you have diabetes, get your eyes examined at least once yearly, and closely follow your doctor's recommendations regarding diet, blood sugar control, insulin and self-care to reduce the risks of diabetic retinopathy, which can progress to severe vision loss without warning.
If you are a candidate for cataract surgery, ask your surgeon about replacing your clouded natural lenses with an aspheric intraocular lens.
These artificial lenses are engineered to provide better contrast sensitivity and crisper vision than would be possible with the implantation of traditional, spherical intraocular lenses.
12. Take General Precautions.
Finally taking general driving or road precautions cannot be over-emphasized.
Be extra cautious when approaching intersections;
Follow expert advice for driving safely at night;
Minimize the risks of driving at night as you get older by planning your trips before you leave home;
Drive only on streets you know, and avoid dark, unlighted roadways;
Limit your trips to places you can easily reach and that are close to home;
Plan for extra driving time if conditions are bad, and don't drive if you are stressed or tired;
Stay focused on driving only, avoiding distractions;
Always drive defensively. Leave at least two car lengths between you and the car in front of you, and even more space in bad weather or when driving fast;
Keep your windows clear, and drive a car with features that make driving safer, such as power steering, power brakes, automatic transmission and large mirrors;
Keep your car in good repair, maintaining fresh windshield wipers and clean, aligned headlights;
Consider hand controls for your gas pedal and brakes if you have leg problems;
Renew skills with a driving class every few years. The cost will surely be cheaper.
Avoid risky spots like ramps and left turns.
Become a Retina Spotter. You can often see the reflections of your headlights in an animal's eyes long before you can see the animal itself. Pairs of tiny bright spots in the distance are a clear warning that an animal is in front of you down the road.
If you're having trouble seeing at night, you may suffer from night blindness and should consider a comprehensive eye exam.
Feel free to book an appointment with one of our eye doctors or call 0803 343 5554 now.